Buy Chicken Feet Paws
Frozen Chicken Feet Suppliers Available with other cuts of chicken. Order Chicken Feet Paws, Whole Chicken alongside quality Chicken parts specially hand slaughter accordingly to Islamic requirements. We provide Chicken feet, Chicken Feet Paws, Chicken drumstick, Chicken thigh, Chicken leg quarters, Chicken wings, Chicken Breast and other parts available. Halal Frozen Chicken Feet Suppliers At Low Prices. Order Now. Buy Chicken Paws from Frozen Chicken Feet Suppliers. Halal Wholesale Chicken Paws. Buy Chicken Feet Paws along Frozen Chicken Feet Paws For Sale with Fast Delivery. Halal Grade A. Up to 20% Discount. Best In Quality. Brazil Origin.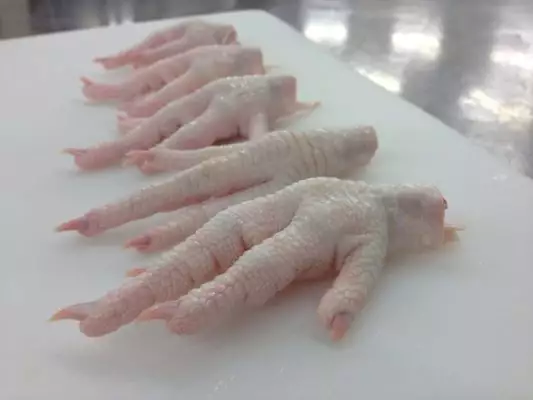 Buy Chicken Feet Paws
When it comes to chicken products, there is nothing to throw away. Each product has a specific purpose it is meant to fulfill in the society. Even the chicken feathers are useful to some communities. The same applies to chicken paws. Chicken Feet Paws are a
delicious
to some communities in the world. We ensure we provide the market with quality frozen chicken paws. Our chicken paws are affordable and we package them in a 20 kg carton size.
| | |
| --- | --- |
| Certification | HALAL, ISO |
| Feature | Nutritious, Low-Fat |
| Freezing Process | IQF |
| Grade | Premium Grade |
| MOQ | 25 Metric Ton/Metric Tons |
| Model Number | TK_0001 |
| Quality | Best Quality |
| Style | Frozen |
| Shelf Life | 24 Months |
Frozen Chicken Feet Suppliers
These chicken paws are nutritious despite the common belief of chicken paws being a discarded chicken item. People have come up with recipes that allow them to enjoy the chicken paws. You can also easily access one such recipe from online sources to help you make the chicken paws as delicious as possible. The quality of our chicken paws comes from the chicken we select during the processing stage.